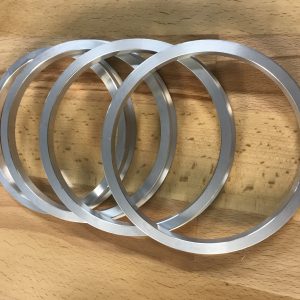 Hub Centric Rings
(Set of 4) Aluminum

Starting at:
Quality:
Made from raw American billet aluminum
Resistant to high brake temperatures
Durable and made to last
Workmanship and materials guaranteed
Each set is custom (BTO) Build-to-Order
Applications: 
Everyday driver
Racecars
Tuners
Work Trucks
Comes with:
(4) Four Hub Centric Rings (Aluminum)
Lead Time:
Standard Shipping
Ship time: 2-3 business days
Saturday counts as a shipping day
$7.99 Flat Rate Shipping
Stock sizes are only a reference to common sizes ordered. Only modifications. No returns or exchanges.
Questions? Call:  1-877-823-2787