US Wheel Adapters DOES NOT convert (4 to 5 Lug), (5 to 6 Lug), (6 to 5 lug),  (6 to 8 Lug), (8 to 10 Lug) etc… We do NOT Change lug counts.
What Are Wheel Adapters?

Wheel adapters are used when you are changing (adapting) the bolt pattern of the wheel to fit a different vehicle than the wheels are made for. (5×4.5″ to 5×4.75″).  Wheel Adapters are most common for fitting aftermarket wheels to multiple different vehicles.


What Are Wheel Spacers?


Wheel spacers add space between the hub of the vehicle and the wheel, but maintain the same bolt pattern. Wheel spacers are used in fixing clearance / offset issues, running larger tires, OR for aesthetics.
Wheel Spacers may be either slip-on (5×4.5″) & bolt-on style. (5×4.5″ to 5×4.5″) 
Dually wheel spacers are mostly used to add space between the rear duals.  
How do I find out my bolt Pattern? 
Most of these factory dimensions are provided in our GUIDE HERE.
If your vehicle is unavailable in the guide (ATV / UTV / Trailer, or custom build) you may also measure manually by following these simple diagrams…
4 Lug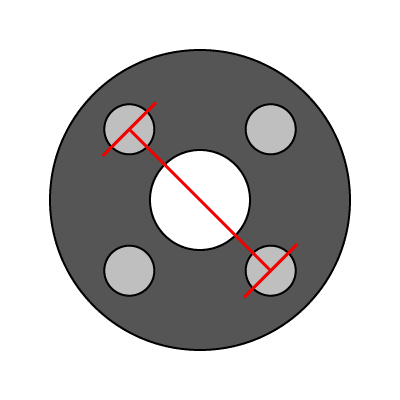 Measure from the center of the first stud, to the center of the stud directly across. 
5 Lug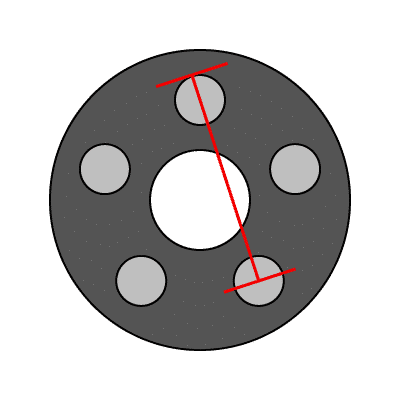 Measure from the OUTSIDE of stud 1, to the CENTER  of stud 3. 
6 Lug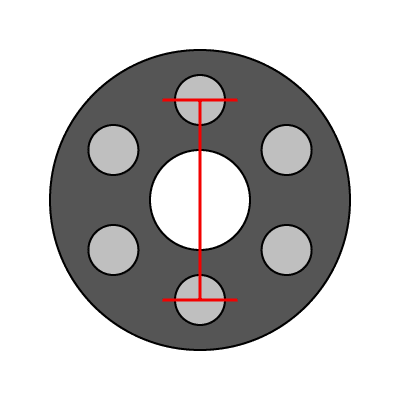 Measure from the center of the first stud, to the center of the stud directly across. 
8 Lug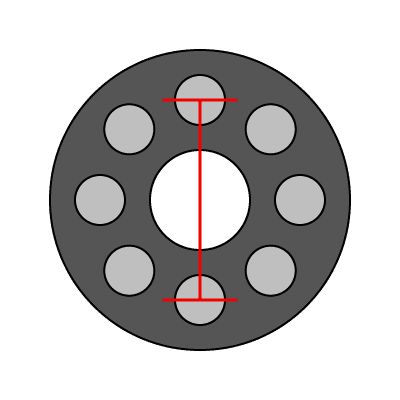 Measure from the center of the first stud, to the center of the stud directly across. 
Build time? / Ship time? / Tracking?
Listed Build times are provided as an estimate ONLY. While we do our best to keep listed build times accurate they can vary by a up to a few days. Tracking information is relayed to the provided email address the moment the label is printed.
Sent Tracking info may not update until the following business day*.
Quantity?
We sell adapters & wheel spacers in pairs through our website.
Hub Centric Rings are sold in sets of 4.
Wheel adapters & Wheel Spacers
Qty 1 = 2 total (1 Pair) : Qty 2 = 4 total (2 Pair)
Hub Centric Rings
Qty 1 = 4 total rings. (set of 4)
Do I have to cut my wheel studs down? 
If your Wheel Adapters, or bolt on wheel spacers are not thick enough to cover the factory studs on the vehicle, then yes more than likely you will have to cut down your studs at the time of installation.
Way around this:
Order the adapters / spacers at least as thick as your factory studs are long. 
Torque Check?
You should check your torque when rotating tires, or every 5-6,000 miles.  Follow torque specs of vehicle handbook, when attaching adapters or spacers to hub.
Adhere to our provided torque specs when attaching wheels to adapters or spacers.
For Torque specs, view Install Instructions
Wheel Adapters? or Wheel Spacers? 
Hub Centric? 
Hub Centric style is designed to fit tight to the hub of the vehicle, while providing a center pilot for the wheels. This creates a like factory fit, and guarantees the wheel is centered resulting in a smooth ride.
We always recommend using hub centric wheel spacers and adapters when possible!
Lug Centric?
Lug Centric style is designed to center only using the studs and acorn style lug nuts, similar to an aftermarket wheel.  Lug centering is less reliable, than hub centering, as the bore will be oversized to fit multiple vheicle makes, and in some cases can result in vibration at highway speeds.
If you have any other questions please call us at either number below.  Our office is open Monday – Friday 8am – 5pm Central Standard Time.