Wheel Adapters
US Wheel Adapters stocks many different wheel adapter products. We also custom build using all American machinery, materials, and hardware. Our knowledgeable staff are ready to help provide vehicle information, as well as take orders.
Find us on facebook at: facebook.com/uswheeladapters.
Give us a call at: 1-877-823-2787
What is a wheel adapter?
A wheel adapter is used when installing a wheel  that has a different bolt pattern than the vehicle.  Adapters are commonly used to change the bolt pattern in order to properly fit wheels from one vehicle to the hub of a different vehicle.  eg  "6×5″ to 6×5.5″"  or  "14×1.5 Studs to 9/16 Studs".  They can also be used to properly fit aftermarket wheels of a different bolt pattern.  Wheel adapters and spacers are available in hub centric and lug centric designs. (bolt-on/slip-on)  US Wheel Adapters does NOT manufacture or sell adapters that convert lug counts.  5 to 6 lug, 6 to 8 lug
What is a wheel spacer?
A wheel spacer is used to widen the stance of a vehicle using the factory or aftermarket wheels.  Unlike the wheel adapter a wheel spacer will keep the same bolt pattern as the vehicle.  Spacers are available in two styles, hub centric and lug centric. (bolt-on/slip-on)  If you are trying to add space between the hub and wheel of your vehicle while using the factory wheels or aftermarket wheels meant for your vehicle, you are looking for a spacer.  If you are trying to make wheels off of a different vehicle fit your current vehicle then you would be needing an adapter.
---
Wheel Adapters
Here you will find all of our wheel adapter products we have on sale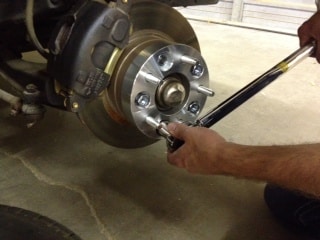 ---
US Wheel Adapters DOES NOT convert (4 to 5 Lug), (5 to 6 Lug), (6 to 8 Lug), (8 to 10 Lug) etc…