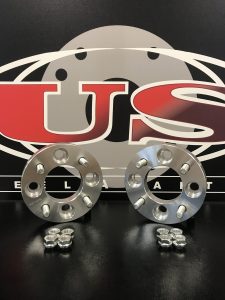 Made for 4 wheelers, ATVs, UTVs, & Side by Sides.  These custom wheel adapters change bolt patterns giving you more options when it comes to wheels and tires. The most common ATV/UTV adaptation is to 4×156 wheels. 
Custom 4 lug adapters for passenger cars.  Fit more modern wheels to older 4 lug cars. 
5 Lug Adapters are by far the most commonly built adapter.  Take your 5 Lug pattern and change it to fit most any 5 lug wheel.* 
Commonly found on most modern Full Size Pickups, 6 lug adapters allow swapping of different manufacturer wheels of Trucks & SUVs. including aftermarket.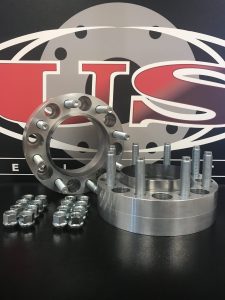 Use Custom 8 Lug adapters to fit aftermarket wheels, and some stock wheels to the hubs of different 3/4 ton and 1 ton trucks.  Including some dually trucks. 
Custom Wheel Adapters, Our Specialty.
For 10 years, US Wheel Adapters has custom built wheel adapters to specification. With the combination of US materials, workmanship, and machinery, US Wheel Adapters, produces and guarantees a superior product. With years of experience manufacturing for hundreds of different vehicles US Wheel Adapters takes pride in building adapters that fit exactly right, with no guessing or fuss.  You may place orders by phone or by using the links above. If you have questions or would like a place an order by phone, then please call.
1-877-823-2787.
When installing a bolt on wheel spacer or adapter, trimming the studs will be necessary when the spacer or adapter plate is thinner than your wheel studs are long.
Click the link that matches your vehicle's / wheel lug count to be taken to the custom build shop page that you need to place an order.
Custom wheel adapters are our specialty here at USWA.  We Back our products 100% against material and craftsmanship.
Find us on Facebook.  Give us a like, Chat with the experts! Facebook.com/USWheelAdapters
---
US Wheel Adapters does NOT offer (4 to 5 lug), (6 to 8 lug), or (8 to 10 lug).