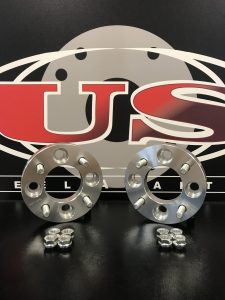 Custom made spacers to fit off-road machines.  Easily fit bigger wheels and tires.
5 Lug Wheel Spacers, custom built to order.  Widen your stance, for a more aggressive look, OR fit wider rims & tires.
This range of Custom wheel spacers are made to fit most newer mid-size and full-size Trucks & SUVs.  Make lug centric wheels fit hub centric.  Add Space for clearance, wider stance, or wider rims with larger tires.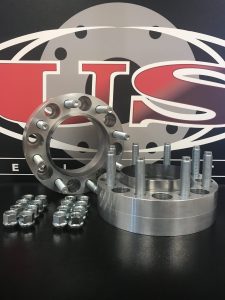 Custom 8 Lug wheel spacers; Meant for 3/4 ton and 1 ton setups using 8 lug wheels. Dually or Single Rear Wheel. Built hub centric for a like factory fit & to guarantee a smooth ride with no loss in towing or hauling capability. These are also the safest option for on-road use. Spacing Wheels provides the possibility of larger tires, lending more life to your tread. Dually conversion spacers also available.
US Wheel Adapters builds custom wheel spacers to specification. With the combination of US materials, workmanship, and machinery, US Wheel Adapters, produces and guarantees a superior product. You may place orders by phone or using the links below. If you have questions or would like a place an order by phone.
Please call 1-877-823-2787.      Visit us on Facebook at Facebook.com/USWheelAdapters
When installing a bolt on wheel spacer or adapter, trimming the studs will be necessary when the spacer or adapter plate is thinner than your wheel studs are long.
---
Custom Wheel Spacers | The Perfect Fit
A customer can spend months on months searching for wheel spacers. They could spend hours a day talking to wheel and tire guys, discussing their wheels and situation and still end up empty handed.  OR you can place your order with us, and have them built to fit.  This means building to your specific car, your specific application, and the exact model wheels. Aftermarket or otherwise.  No other company even comes close when it comes to the level of detail, and customization available with US Wheel Adapters and US Wheel Spacers.  Slip on wheel spacers are available starting at just 5mm thick are used to obtain clearance with minimum spacing or from .  Full bolt on style custom wheel spacers available starting at just 1″ thick.